Have you been memorizing Bible verses?
Haven't been, but
want
to?
I have decided to link up with some awesome ladies over at
Do Not Depart.
I will be trying along with them to memorize I Peter 1, starting Aug. 19.
This week working on verses 1 & 2.
You may be wondering why I have chosen to do this challenge. Well as the most of you know, I am a minister, I have been in church my entire life. I LOVE reading Gods word. And over the years have memorized scripture. But I have also struggled with my memory. Due to stress, depression and other health issues, my memory does not always work when it comes to details. So even though I know that God can bring back to my remembrance His Word that I have already put into my heart, I still want to continue to place His Word there.
Satan is at work with in the world today and would love to rid the world of God and His Word. But those of us who know the Word, we know the end. So, at this time in my life I want to make sure that I place God's Word into my life as much as possible.
I love the fact that I will have some kind of countability in to doing this challenge. If you would love to join in with us, there are links below.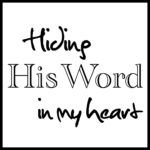 Sound Good? Want To Participate?
If you're interested in joining in on memorizing 1 Peter 1, the Do Not Depart group will be starting August 19, with a scheduled finish of November 17.
You can register at Do Not Depart on Wednesday the 8th, and they send encouraging emails.
You can also "Like" their Facebook page for more encouragement,
They're also on Twitter at @DoNotDepart,
You can join the conversation on Twitter using the hashtag #HideHisWord.
Have a Blessed Day!!