Guess what...Its Monday! What are you reading this week?
This is a weekly event to list the books completed last week, the books currently being reading, and the books to be finish this week. It is hosted by Book Journey.
Thanks for stopping by. First let me just say that I have been in a little bit of a reading slump (for lack of a better word)... But I have regained some much needed reading pep,
and below is what I am still reading this week. But not much has changed since last week, but still enjoying these reads.
What I'm Reading: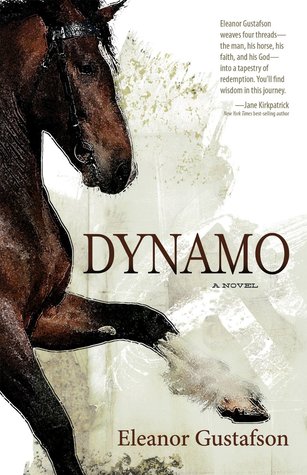 DYNAMO by Eleanor Gustafson
Jeth Cavanaugh is searching for a new life along one of Pennsylvania's mountain ridges when he stumbles upon a stable of show jumpers owned by Rob and Katie Chilton. Throw in a volatile gaited stallion named Dynamo, and Jeth will do anything to work there. He earns his living by training and showing Rob's jumpers, but Dynamo is his primary passion. Everything changes when God enters his life--in the unconventional form of a hard slap by an old girlfriend--and ignites a new, greater passion within him. But along with fervor comes fear at the undeniable evidence of God's hand on his life. Inexplicable events, both good and bad, make him moan plaintively, "Why does God do this to me? I get the feeling I'm being set up for something." He is, indeed. Jeth's life is anything but predictable, much like the God he serves. The real Dynamo and his ultimate trainer emerge out of an excruciating mix of disaster and brokenness, which are never beyond the reach of redemption. This story is God in your face: Who is He, really? What does He ask of us?
________________________________

Shortly before suffering a tragic car accident, Kate McConnell wrote the simple but powerful words of Psalm 23 on a piece of paper to give to her wayward and confused son. The Lord is my shepherd; I shall not want. . . . As she loses consciousness from her injuries, she wonders if she's done enough with her life.

When a lonely dry-cleaning employee finds Kate's humble, handwritten copy of the psalm, it begins an incredible journey around the world, forever changing the lives of twelve very different people. From a soldier wounded in Iraq, to a young Kurdish girl fleeing with her family to Turkey, to a Kenyan runner about to begin the Rome Invitational Marathon, the power of the ancient words begins to take shape in various ways, drawing us into these stories inexplicably linked by the passing of the psalm from one recipient to the next.

Eventually, Kate's paper makes it back to its starting place, and she discovers the unexpected ways that God moves and changes lives through even our smallest actions.
_________________________________
Love and Miss Communication by Elyssa Friedland
This unforgettable debut novel asks us to look up from our screens and out at the world...and to imagine what life would be like with no searches, no status updates, no texts, no Tweets, no pins, and no posts
Evie Rosen has had enough. She's tired of the partners at her law firm e-mailing her at all hours of the night. The thought of another online date makes her break out in a cold sweat. She's over the clever hashtags and the endless selfies. So when her career hits a surprising roadblock and her heart is crushed by Facebook, Evie decides it's time to put down her smartphone for good. (Beats stowing it in her underwear--she's done that too!)
And that's when she discovers a fresh start for real conversations, fewer distractions, and living in the moment, even if the moments are heartbreakingly difficult. Babies are born; marriages teeter; friendships are tested. Evie just may find love and a new direction when she least expects it, but she also learns that just because you unplug your phone doesn't mean you can unplug from life.
HARMONY TRILOGY by Nancy Mehl
Follow the lives of the Mennonites in Harmony, Kansas, and outsider Gracie Temple, who comes to live among them. Gracie has trouble fitting in from the start when she inherits a heavy secret from her estranged uncle. Then just when Harmony starts to feel like home, her graphic design career puts her in a suspicious position that threatens the town's way of life. And when life and love are finally falling in place, Gracie's attempts to help a Mennonite teen realize her dreams backfire. Will Gracie ever be in harmony with the town she has grown to love?