Guess what...Its Monday! What are you reading this week?
This meme started with J Kaye's Blog and then was taken up by Sheila from Book Journey. Sheila then passed it on to Kathryn at the Book Date. It's a meme where you share what you read last week, what you're currently reading and what you plan on reading that week.
Thanks for stopping by. First let me just say that I have been in a little bit of a reading slump (for lack of a better word)... But I have regained some much needed reading pep,
and below is what I am still reading this week. But not much has changed since last week, but still enjoying these reads.
Dauntless by Dina Sleiman
Where Legend and History Collide,
One Young Woman Will Fight for the Innocent
Born a baron's daughter, Lady Merry Ellison is now an enemy of the throne after her father's failed assassination attempt upon the king. Bold and uniquely skilled, she is willing to go to any lengths to protect the orphaned children of her former village--a group that becomes known as "The Ghosts of Farthingale Forest." Merry finds her charge more difficult as their growing notoriety brings increasing trouble their way.
Timothy Grey, ninth child of the Baron of Greyham, longs to perform some feat so legendary that he will rise from obscurity and earn a title of his own. When the Ghosts of Farthingale Forest are spotted in Wyndeshire, where he serves as assistant to the local earl, he might have found his chance. But when he comes face-to-face with the leader of the thieves, he's forced to reexamine everything he's known.
"Sleiman launches an action-packed, historical series of adventure and romance, starring a strong, intelligent female Robin Hood who lives up to the famous outlaw's reputation. This fun read makes a great adult-YA crossover for Robin Hood fans who enjoy a twist to a classic tale." -Library Journal, starred review
___________________________________
When Ruby woke up on her tenth birthday, something about her had changed. Something frightening enough to make her parents lock her in the garage and call the police. Something that got her sent to Thurmond, a brutal government "rehabilitation camp." She might have survived the mysterious disease that had killed most of America's children, but she and the others emerged with something far worse: frightening abilities they could not control.
Now sixteen, Ruby is one of the dangerous ones. When the truth comes out, Ruby barely escapes Thurmond with her life. She is on the run, desperate to find the only safe haven left for kids like her—East River. She joins a group of kids who have escaped their own camp. Liam, their brave leader, is falling hard for Ruby. But no matter how much she aches for him, Ruby can't risk getting close. Not after what happened to her parents. When they arrive at East River, nothing is as it seems, least of all its mysterious leader. But there are other forces at work, people who will stop at nothing to use Ruby in their fight against the government. Ruby will be faced with a terrible choice, one that may mean giving up her only chance at having a life worth living.' to
__________________________________________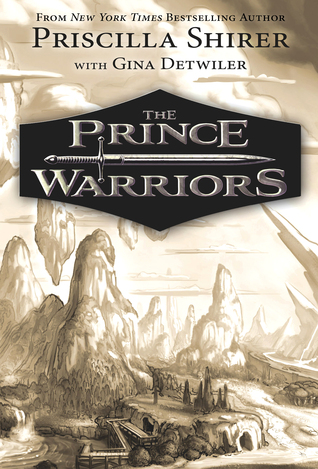 The Prince Warriors by Author Priscilla Shirer
As brothers, Xavier and Evan are used to battling each other. But now they're discovering that there is a much bigger battle going on all around them. And it's their turn to fight. Based on Ephesians 6:10–18, The Prince Warriors is the first book in Priscilla Shirer's epic new series that brings to life the invisible struggle ensuing in the spiritual realm. Xavier, Evan, and their friends have typical lives until they enter a mysterious land called Ahoratos. There they meet their guide, Ruwach, who offers wisdom and direction as the kids' initial adventure begins—an adventure filled with armor and danger and a very real enemy.
Written by New York Times Best-Selling author Priscilla Shirer, The Prince Warriors series was created for middle-grade readers and will include the fiction trilogy as well as Unseen: The 365 Prince Warriors Devotional and the Unseen app.