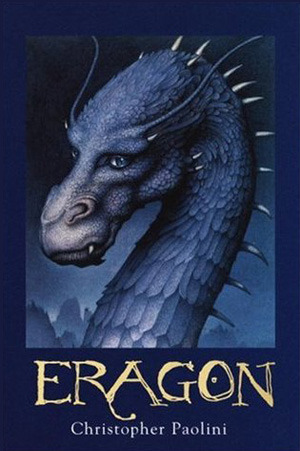 Title:
ERAGON
Author:
Christopher Paolini
Pub. Date:
04/2005
(first published June 2002)
Publisher:
Alfred A. Knopf
ISBN#:
0375826696
Series: The Inheritance Cycle #1
Synopsis:
One boy. One dragon. A world of adventure.
When Eragon finds a polished blue stone in the forest, he thinks it is the lucky discovery of a poor farm boy; perhaps it will buy his family meat for the winter. But when the stone brings a dragon hatchling, Eragon realizes he has stumbled upon a legacy nearly as old as the Empire itself.
Overnight his simple life is shattered, and he is thrust into a perilous new world of destiny, magic, and power. With only an ancient sword and the advice of an old storyteller for guidance, Eragon and the fledgling dragon must navigate the dangerous terrain and dark enemies of an Empire ruled by a king whose evil knows no bounds.
Can Eragon take up the mantle of the legendary Dragon Riders? The fate of the Empire may rest in his hands.
My Review:
To start this review let me say that my son and his family bought the whole set of this series for me for Christmas a few years ago. He knew I loved to read and fantasy was often a go to read for me. Phil had told me several times prior that he loved the books and thought I would as well. And I do.
The story line is amazing. Very well plotted as well written. The author takes you on a trail of legend, life altering, love and betrayal in some instances. He lays a foundation for what is to come in the story as well as keeping you on the edge as to not let you know what really to expect. Which is a great thing in my opinion.
As for the one of the main characters, Eragon, I found believable as well as fascinating. He has the hunger for the past as well as the future. And just as the synopsis says that overnight his life is changed, to me was a little understated. lol. IT WAS CHANGED!
I loved the creativity in the story and the only thing that was at some points just a little daunting was all of the details. Just let me say that would be the only thing that would at times cause me to lay it down and let other things in. Why you might say. If you have not picked up the series than you might not get it. When I place this series in the category of Epic Fantasy, it very very much goes into long and great lengths of describing and detailing of what is or has or even might come.
So with the reasons above I will be giving this first book in the series and the author a Breath of Life rating of:
Disclosure: I did not receive the above book in exchange for my honest opinion and or review. But the Opinions are my own and yours may differ.