Guess what...Its Monday! What are you reading this week?
This is a weekly event to list the books completed last week, the books currently being reading, and the books to be finish this week. It is hosted by Book Journey.
Thanks for stopping by. First let me just say that I have been in a little bit of a reading slump (for lack of a better word)... But I have regained some much needed reading pep,
and below is what I am still reading this week.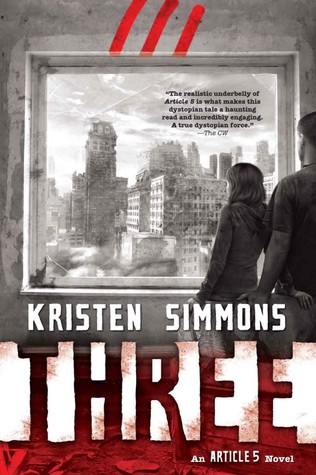 Ember Miller and Chase Jennings are ready to stop running. After weeks spent in hiding as two of the Bureau of Reformation's most wanted criminals, they have finally arrived at the safe house, where they hope to live a safe and quiet existence.
And all that's left is smoking ruins.
Devastated by the demolition of their last hope, Ember and Chase follow the only thing left to them—tracks leading away from the wreckage. The only sign that there may have been survivors.
With their high profile, they know they can't stay out in the open for long. They take shelter in the wilderness and amidst the ruins of abandoned cities as they follow the tracks down the coast, eventually finding refugees from the destroyed safe house. Among them is someone from Chase's past—someone he never thought he'd see again.
Banding together, they search for a place to hide, aiming for a settlement a few of them have heard about…a settlement that is rumored to house the nebulous organization known as Three. The very group that has provided Ember with a tiny ray of hope ever since she was first forced on the run.
Three is responsible for the huge network of underground safe houses and resistance groups across the country. And they may offer Ember her only chance at telling the world her story.
At fighting back.
___________________
In a violent and turbulent world a young woman must decide,vengeance or destiny.
Justice Xavier has lived half of her life enslaved. Traded from owner to owner for her stubborn refusal to capitulate to her owners' wills she has lived a life of torture all in the name of hiding her true nature. That of the Order's hope of Bella Morte,beautiful death. She is believed it be a skilled warrior and a commander of the elements all in the name in leading them to victory over the all powerful Eleanor of Ke'lan and returning
the world to a pre-apocalyptic state where the Order can protect the world behind its shield of anonymity against the men who would see all women and children subjegated to
their collective will.
\Duncan is called Legend. An enslaved gladiator
who fights to survive in the arena of the Queen he
is favored by her in their illicit trysts. Only this
time she is calling upon him to murder Bella
Morte. But he is not alone in the tunnels, in
the adjacent cell is William, a gifted and trained healer, who appeals to whatever humanity that might remain in Duncan.
And when Duncan's connection to Bella Morte is revealed they are faced with a choice. Depend on one another or face death apart.
In the shadows of the night in Caldwell, New York, there's a deadly turf war going on between vampires and their slayers. There exists a secret band of brothers like no other-six vampire warriors, defenders of their race. Yet none of them relishes killing more than Wrath, the leader of The Black Dagger Brotherhood.

The only purebred vampire left on earth, Wrath has a score to settle with the slayers who murdered his parents centuries ago. But, when one of his most trusted fighters is killed-leaving his half-breed daughter unaware of his existence or her fate-Wrath must usher her into the world of the undead-a world of sensuality beyond her wildest dreams.